Welcome to the Jersey Rally 2022
Welcome from the Jersey Rally Chair, Claire Simon & Clerk of the Course, Ron Allen.
On behalf of the Jersey Rally Committee, we would like to welcome you to the 39th running of the Roberts Jersey Rally.
This year's event is being organised by a group of enthusiasts headed up by our Chair, Claire Simon who has been involved in rallying for 25 years and has a wealth of experience locally and abroad, Claire's main role for the rally is being a part of the safety car team alongside her partner Andy Pearce. 
Ron Allen will once again be taking the helm as the Clerk of the Course, Ron has been involved in rallying for 26 years and has successfully competed in in the Jersey Rally on numerous occasions and involved in organising since 1996.
Ron's roll will be at RJA&HS in Rally Control headquarters ensuring the smooth running of the event assisted by Terry Gorvel as Deputy Clerk and the large team of officials needed to run this level of Event. 
The organising committee have put in lot of hard work and hours to bring you this event and what we hope to be an amazing rally.
The event will be running over two days with four stages run on the Friday afternoon and evening in the dark, plus four stages on the Saturday morning and afternoon, each stage will be run a number of times over the two days, giving us up to 107 stage miles & up to 130 road miles.
Our event cannot be run without the support from our sponsors, we are delighted to have Roberts Garages as our main sponsor along with individual stage sponsors, we are very grateful for their continued support.
The Organisers would like to take this opportunity to thank everyone for their help, Competitors, Marshals, Officials, Medics, Timekeepers, Radio operators, Recovery.
Our event is one of a few road closed events to happen in the Motorsport UK calendar we are very fortunate to have this opportunity and would like to say, a special thank you especially to the landowners and residents, to the parish officials and government officials that help to make this event possible to run.
The Jersey Rally is a very special event to our club the Jersey Motor Cycle and Light Car Club, please come out and support our event, we look forward to seeing you at the rally, thank you for your continued support.
Claire Simon, Rally Chair
Ron Allen, Clerk of Course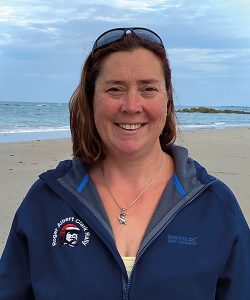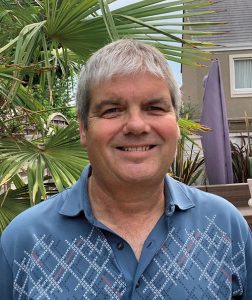 Welcome from the President of the Jersey Motorcycle & Light Car Club.
As the seasons change in our beautiful Island, it is time to welcome everyone to one of the highlights of the Channel Islands motorsport calendar – the Roberts Garages Jersey Rally being held on the 7th and 8th October 2022. Our lanes will be alive to the sound of rally cars once again, to the delight of the many motorsport fans and the hundreds of overseas visitors (both competing and spectating) who provide a welcome boost to our tourism industry.
This event has been a part of the motorsport calendar for 39 years now and has for many years been one of only a few rallies in the UK staged on public roads. This is only possible because of the support of those residents affected by the road closures. We remain extremely grateful for the support and welcome generally received from householders and landowners. It is also the case every year that we rely on our close relationship with the Connetables, parish officials and Honorary Police in each of the relevant parishes as well as the help and support of those States Departments with whom we interact. Thank you all so very much and a big thanks from the competitors, visitors and the Club.
Personally I have been involved in much of the pre-event organisation and I am very aware of the many hours which the dedicated organising team, led by the Rally Chairman, Claire Simon, and the Clerk of the Course, Ron Allen, have invested in order to make the Roberts Garages Jersey Rally a success. Their amazing commitment and hard work, which increases each year with further regulation, is very much appreciated by us all.
Finally, I must mention all our sponsors;  we live in challenging times financially with an ever increasing focus on budget and costs, both in personal and business lives. We are honoured that Roberts Garages continues the partnership started in 2017 as our Title Sponsor and thus enabling us to commit to a leading quality event. I also note our appreciation to our Stage Sponsors, many of whom have been loyal friends for some years, and who also contribute to managing our costs and promoting an exciting 2022 event.
I believe that the world of motorsport has recognised that Jersey is a place of excellence for many years. Visiting drivers, their crews and fans return year after year to enjoy the event due to its reputation. With some 60 events being organised by the Club this year in Jersey for competitors from 6 years old to over 70, the hard work and dedication of our volunteers ensures that we maintain this.
In the current world we are delighted that we have a diverse leadership team and that our competitors also come from many walks of life, with more ladies both competing and officiating than in any previous year. The Jersey Rally is also committed to increase its recycling and reduce waste and to reduce carbon emissions.
I do hope that you enjoy the 2022 Roberts Garages Jersey Rally whether competing, volunteering, officiating, or spectating. Please do support this unique spectacle either by watching one of the stages or by visiting the "Rally Village" at the RJA&HS showground. 
Michael Fleming,
President of Jersey Motorcycle & Light Car Club